Are you struggling to think of quick and healthy dinner options? Meal planning is a task that can seem daunting for some, so we have compiled a list of 7 quick and healthy suppers to help take some of the stress out of your healthy eating journey for 2021. Why not try some and see if you find a new favourite?
Fancy some home cooked Thai food while on a ketogenic or low carb diet? This tasty little dish might just be what you are craving!
This recipe was developed for the creators of 'One Nutrition Organic Pure MCT Oil'
I have worked with them and their MCT oil to create a 5 day meal plan. To discover more about 'One Nutrition' products and recipes, click on this link:
https://www.onenutrition.ie/blog/go-keto-get-our-free-5-day-meal-plan-today
I first came across this cabbage on a recent trip to Portugal. Each of the great restaurants from Lisbon to Algarve had their own take on it. My favourite version was at  the Elska Kitchen Aljezur   The chef there is amazing and all his dishes inspired my creative juices.
This version I recently created for Natural life magazine using their Manuka honey. (Natural Life magazine is free in health stores)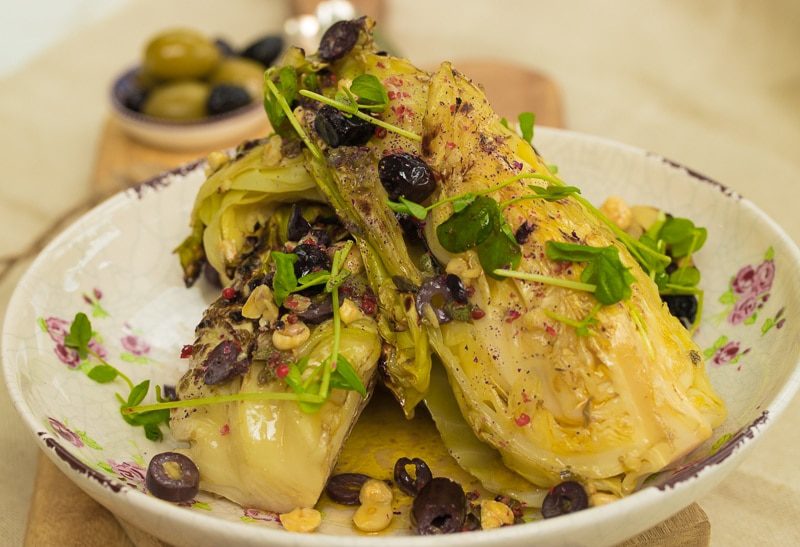 Cooking salmon en papillote is a healthy and quick way of cooking fish.  En papillote translated simply means cooked and served in a parchment or a foil parcel.  This enables the fish to both steam and bake in the oven at the same time. This recipe uses leek, semi-dried tomatoes, capers, dill, olive oil to infuse the salmon as it cooks in the parcel.
Frittata combinations are endless and so quick and simple to make. They are a great way of using up leftovers and lovely served with a nice green salad or some green vegetables like broccoli, peas, beans etc. Mostly I make mine vegetarian but every now and again I add in some smoked mackerel or fresh salmon, or in this case some diced bacon.
Eggs make a sustaining and nutrient-rich meal. Organic eggs contain omega-3 essential fatty acid. They are cheap, really versatile and a great addition to your pantry.
Frittata is best cooked on the day and served at room temperature.
Baked Smoked Haddock with a Cheesy Crumb and Peas. The ultimate comfort food – well in my eyes anyway!
Takeaway deprived due to Covid19. Why not create your own in the safety of your own kitchen. Here is a really quick eggy fried rice brown rice that will ensure the takeaway is binned forever – even after our lockdown is over.

Buttery and sweet who would have thought cauliflower could taste this good!