At this time of year, we can all find ourselves craving that extra little bit of comfort. We have put together a list of seven broths and soups that are sure to put a smile on your face while nourishing your body.
Making your own broth allows you to introduce an amazing array of nutrients to your diet. It also adds incredible flavours to soups, sauces, stews or just as a simple broth brew. 
Similar to bone broth, when making a vegetarian/vegan version it is important to include as many natural healing superfood ingredients as you can without compromising the flavour of the broth.  With thoughtful choices, you will be delighted with the depth of incredible flavours to accompany your nutrient hit! Try my version below and see what you think. 
Making your own broth allows you to introduce an amazing array of nutrients to your diet. It also adds incredible flavours to soups, sauces, stews or just as a simple broth brew.  
Bone broths are especially nourishing for the digestive and immune systems and a key ingredient in supporting gut health, bone health, anti-ageing and anti-inflammatory factors.
This recipe calls for beef bones, but you can also make bone broth using whole organic chicken, lamb, pork or whole fish (including the head) or fish bones. Each will deliver its own unique flavour and blend of nutrients. Cooking times will vary
Did you know that butternut squash is one of the mildest and easiest vegetables to digest? A type of winter squash, butternut contains fibre, carotenoids, potassium, among other nutrients. According to Chinese Medicine, squash strengthens the digestion and helps reduce inflammation. Now the clocks have gone back one hour and with a nip in the air, this soothing squash soup will warm your bones and soul.
Kohlrabi, sometimes called 'German turnip' is a native of northern Europe and a member of the brassica family. It has a globular shape and comes in three colours: pale green, white and vibrant purple, depending on its variety.
Kohlrabi is known as an excellent blood and kidney cleanser. It also helps stabilise blood sugar imbalances in hypoglycaemia and diabetes, as it is high in water and fibre, and low in starch. Like its cabbage relative, it has anti-cancer antioxidant properties. It is also an excellent source of vit C, potassium, vit B6, folate and calcium, among others.
Kohlrabi has a distinctive peppery taste, similar to that of a turnip or radish. It can be eaten raw or cooked. It is really nice when grated, julienned, or sliced into salads. When cooked it has a creamy texture and tastes more like turnip. It works really well in soups and broths.
Warming, earthy and rich this soup will warm the cockles of your heart and heal the souls of a nation. Fantastic to make at this time of year when wild mushrooms are bountiful ?
This soup has been a staunch favourite among IINH students for many years – It's warming spices, comforting textures and nourishing goodness will leave you feeling satisfied for hours.
Beans (legumes) are among the oldest cultivated plants, dating back to prehistoric times. Rich in antioxidants, beans help reduce cholesterol, control insulin and blood sugar, lower blood pressure, regulate colon functions and prevent constipation. They are a superior carbohydrate for diabetics or those with blood sugar imbalances since they are slow-releasing (low GI) – causing only a gradual rise in blood sugar levels. They are a good source of protein fibre and vitamin A (carotene).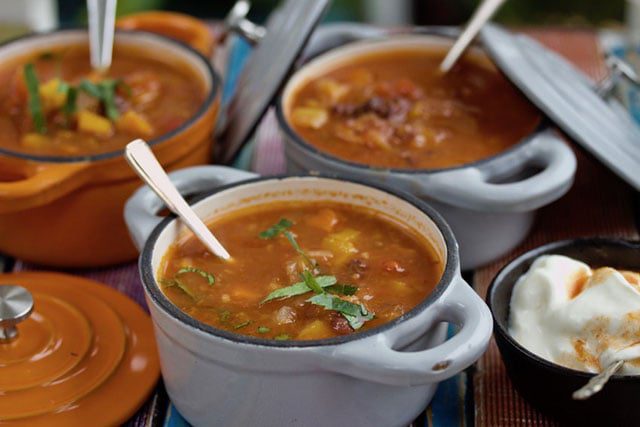 Oo-la-la! If you're asking me for my favourite soup, I'll really have to go for French Onion! No-matter what restaurant I'm in, if it's on the menu I'll forgo everything else just to savour the depth, richness gentle sweetness of this wonderful soup. It's like a bowl of magic infused with comfort, warmth and healing – especially in the depths of winter. 
Do you have any favourite broths and soups? Let us know in the comments below.