Sample some class materials and our online learning platform
Sample some class materials and our online learning platform
Thank you for your interest in our course content. Please enjoy our short video walkthrough of our online learning platform, some sample class content from our BTEC Level 4 Diploma in Professional Nutrition and Health Coaching beginning September 14th.
Did you know we are the only Nutrition College in Ireland to offer students REAL LIFE case study clinic experience as part of your first-year course!
This invaluable experience provides you with a unique insight on how to work in a one-to-one setting with an individual, build rapport and improve their overall health and wellness. With this knowledge behind you, you will graduate with confidence to start to work with clients immediately as a qualified Health Coach.
Food Allergy & Intolerance – Richard Burton, founder of the Institute, speaks about the topic of 'Health and Disease: Food Allergy and Intolerance.' Listen below.
Sensitivity to Foods
Sensitivities to foods can cause a wide variety of unpleasant and persistent symptoms. Increasing numbers of people are suffering unexplained complaints (treated or untreated), often unaware they may be triggered or worsened by food(s) they commonly eat.
Video walkthrough – IINH eLearning Platform
Welcome to IINH's online learning platform. We have made a recent move to using the Brightspace learning platform to ensure that our students have the most user friendly and positive learning experience possible. It's a great resource centre, packed with information and tools to help you on your journey to becoming a qualified Health Coach or Nutritional Therapist. You can connect with fellow students and with the team at IINH via Brightspace, enabling you to keep all of your learning in one place. This short video provides an example of you what you can expect from the Brightspace platform.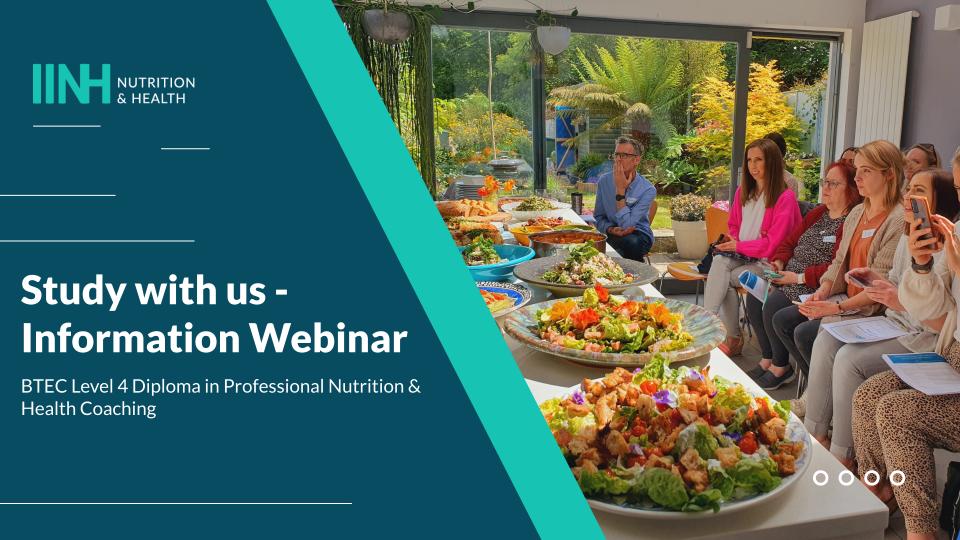 Find out more about our upcoming Nutrition & Health Coaching programme by viewing the recordings of our past online events. 
WHAT OUR STUDENTS AND GRADS ARE SAYING
See what some of our pioneers in nutrition have to say about their experiences of studying with IINH. Many now have very successful businesses that offer that work/life/family balance.
View more student testimonials at the link below. 
Katie Delaney graduated from IINH in 2021, as well as running her own coaching business Katie Delaney Health Coaching, she is also contracted to work with the NHS as a Health Coach.
Studying with IINH was one of the best decisions I have ever made. I knew from the very first class that I was going to enjoy every moment of studying to become a Nutrition and Health Coach.
Richard and the rest of the team were incredible at both providing knowledge and support throughout the year.
I couldn't recommend IINH enough! It has given me a fantastic new chapter in life, and I am looking forward to helping others start theirs. Trust me, you won't regret studying with IINH.
Phoebe Webb
I cannot speak highly enough of the IINH health and nutrition course. This was the most enjoyable and worthwhile course I have ever completed and this is due to many things. To name but a few, I found the content fascinating and highly relevant. The teachers and background staff are also deeply knowledgeable and intensely passionate about advocating a healthier way of life through diet and lifestyle. Not only do they promote a healthy way of life, they embody it and this for me is the truest reflection of their commitment to health and well being. I wish I could do the course again!
Edel Doherty