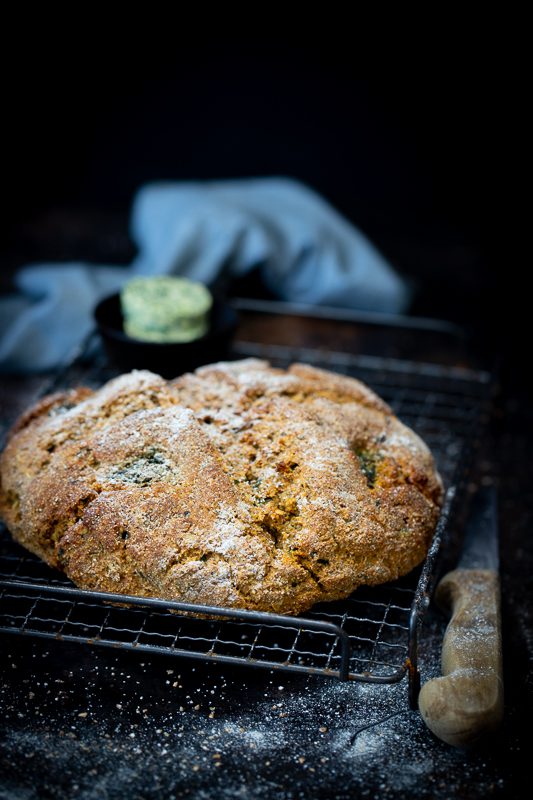 As it is wild garlic season and there's a big brown bag of these beautiful scented leaves in my fridge I decided to funk up an old classic soda bread recipe – so please enjoy this mouth-watering buttery garlic bread!
200

g

Rye flour

I used Dunany 100% stoneground Rye flour, plus a little extra for dusting

250

g

plain white spelt flour

100

g

jumbo oats

10

g

Himalayan salt

1 rounded tsp

10

g

bread soda

sieved into flour (1 rounded tsp)

400

ml

buttermilk

110

g

natural full fat yoghurt

80

g

wild garlic butter

melted

1

tbsp

olive oil
Preheat your oven to 200C. Sieve all dry ingredients into a large mixing bowl. Any extra bits in the sieve tip into the bowl.

Mix the buttermilk and melted wild garlic butter together in a jug. Make a well in the centre of the dry ingredients and pour in most of the wet mixture at once. Using a circular motion with one hand, mix in the flour from the sides of the bowl, adding more milk if necessary. Add a little extra flour if you find the dough too wet and sticky. The dough should be softish – not too wet and not too dry.

Dust your counter lightly with flour and tip the dough out. Wash and dry your hands, then gently shape the dough into a single ball, pat it down slightly then transfer to a floured tray.

Cut a deep cross into the top of the dough and lightly dust with flour. Transfer to oven and bake for 45-50 minutes or until cooked. If in doubt, tap the bottom of the bread: if it is cooked it will sound hollow.

Transfer loaf to a wire rack, wrap with a damp cloth and leave to cool.
Other bread combinations (Instead of wild garlic):
For more traditional soda bread omit the wild garlic and replace with 60g mixed seeds such as sunflower, sesame and pumpkin.
Add combinations of dried fruits: figs, sultanas, currents, diced dates, or sour cherries (50g)
2 tablespoon rosemary + 60g dried cranberries (lovely combination at Christmas)
1 tablespoon rosemary + a few baby spinach leaves + ½ roasted red pepper finely chopped
2 tablespoon onion marmalade + 30 grams good quality cheddar cheese
2 cooked rashers, finely diced + 1 tablespoon chopped fresh thyme + 30g good quality cheddar cheese.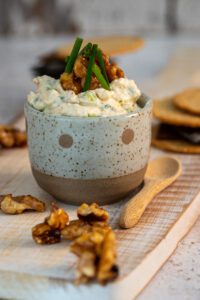 This dish is perfect as an appetizer, a delightful addition to a cheese platter, or a delectable standalone dip.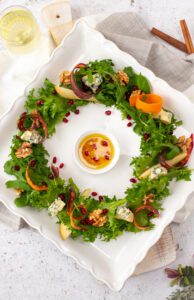 This salad makes for a beautiful centrepiece on your table. It can be served as a starter or a side dish to the main event.
This Mediterranean/North African-inspired omelette combines the rich, robust flavours of harissa, the creamy tang of feta cheese, and the briny essence of olives. Beyond its