Mexican Vegan Stuffed Peppers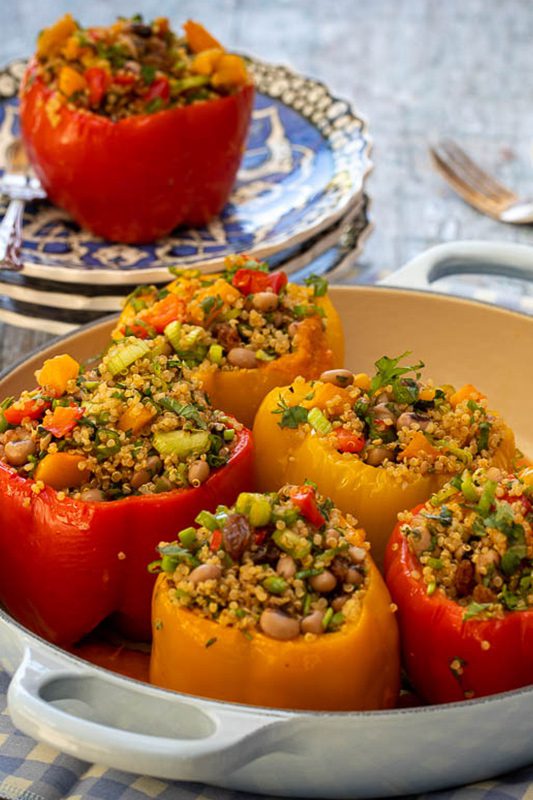 Mexican Vegan Stuffed Peppers
This colourful Mexican inspired stuffed peppers are easy, healthy and loaded with flavour. A light and delicious plant-based dish ideal for any vegans – and others – in your life.
Diet
Dairy Free, Gluten Free, Low GI, Vegan, Vegetarian
6

large peppers

tops and seeds removed

200

g

butternut squash

finely diced

Tops of peppers

finely diced (red part only)

250

g

cooked quinoa

1

X 400g black-eyed beans

drained & rinsed

80

g

spring onions

finely chopped (1x large bunch)

60

g

sultanas

25

g

coriander

finely chopped (small handful)

5

g

mint

finely chopped (a few leaves)

½

tsp

garlic

finely chopped

1

tsp

ground cumin

¼

tsp

garlic salt

¼

tsp

smoked paprika

¼

tsp

chilli flakes

1/8

tsp

ground cinnamon

Seasoning

Olive oil for drizzling
Preheat oven to 200 C. Lightly oil a deep baking tray and place the peppers close together, cut side down. Cover with parchment and foil and bake for 20 -30 minutes until slightly soft. Remove from oven, uncover and leave to cool slightly. Lower the oven to 170 C.

In a separate tray spread the diced butternut squash and pepper tops. Drizzle with olive oil and place in same oven. Roast for 20-30 minutes until caramelised and soft. Remove from oven and cool slightly.

To prepare filling: In a large bowl mix together the cooked quinoa, black-eyed beans, spring onion, sultanas, coriander, mint, spices and seasoning. Add the roasted butternut squash and pepper tops. Gently mix and season to taste.

To fill peppers: Spoon the quinoa filling into each pepper and pack as tightly as you can. Place peppers snugly together, filled side up, in the baking tray so they don't topple over.

Return peppers to oven and bake for 20-30 minutes until filling has heated through and peppers are shrivelled.

Serve with a crisp fresh green salad or try serving this with homemade roasted tomato sauce.
These peppers are really nice served hot, but also good when just above room temperature.
Both peppers and quinoa filling can be made a day ahead.
Can be frozen for up to 3 months – but will become slightly wetter.
Check out how to cook the perfect quinoa here.
Check out how to make a gorgeous homemade roasted tomato sauce here.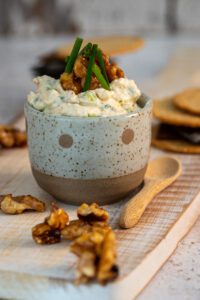 This dish is perfect as an appetizer, a delightful addition to a cheese platter, or a delectable standalone dip.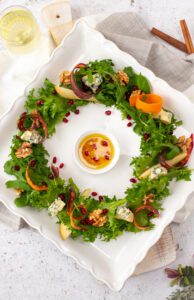 This salad makes for a beautiful centrepiece on your table. It can be served as a starter or a side dish to the main event.
This Mediterranean/North African-inspired omelette combines the rich, robust flavours of harissa, the creamy tang of feta cheese, and the briny essence of olives. Beyond its