If you are not quite ready to go the full Monty with cauliflower rice, this simple combination is a delight and a gentle way to embrace this dilemma. Play around with quantities, add different spices and herbs - you might be surprised how much you enjoy this version of rice.
Course
Lunch, Mains, Side Dish
150-250

g

raw cauliflower

cut into chunks

200

g

day-old cooked brown rice

4

spring onions

finely chopped

Dash olive oil or coconut oil

50

g

butter

optional

Pinch

of ground cumin

Himalayan salt and cracked black pepper to season
Place cauliflower chunks in a food processor and pulse until broken into rice-size pieces.

Heat a deep pan or wok over medium heat. Add olive oil/coconut oil (and butter if using) quickly followed by the spring onion, gently cook for 1-2 minutes until soft.

Add cauliflower 'rice', cumin or spice of choice, salt and pepper and stir through the oil/butter. Leave the heat on low/medium and place a lid on top of the pan/wok. Allow the cauliflower rice to cook for 3-4 minutes, then add the brown rice. Keep stirring for 1 more minute. Fluff 'rice' with a fork and serve.
Additions when cooking brown rice: Add whole cloves, star anise, cinnamon bark, pink peppercorns, coriander seed, cardamom seed, bay leaf, curry leaf etc. These will add their own, gentle unique flavour.
Add fresh chopped herbs at end. Any of the following are good: coriander, dill, parsley, mint, basil, chives just before serving
Add stir-fry vegetables, or Paneer or halloumi or tofu or prawns or chicken or beef or pork.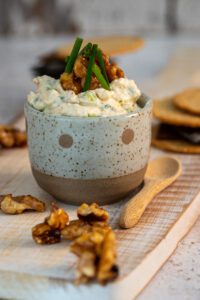 This dish is perfect as an appetizer, a delightful addition to a cheese platter, or a delectable standalone dip.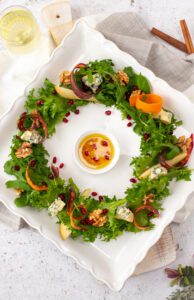 This salad makes for a beautiful centrepiece on your table. It can be served as a starter or a side dish to the main event.
This Mediterranean/North African-inspired omelette combines the rich, robust flavours of harissa, the creamy tang of feta cheese, and the briny essence of olives. Beyond its