Fig, Camembert and Caramelized Onion Tart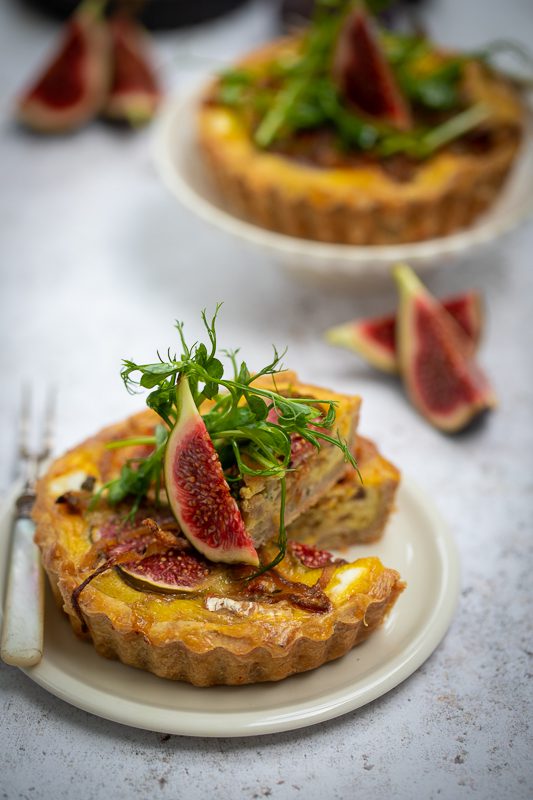 Fig, Camembert and Caramelized Onion Tart
I recently made this elegant tart for a dinner party I was catering and it wowed the guests. It's light, creamy and vibrant in its energy, with gentle subtle flavours and textures. It makes for a trendy starter or main course if entertaining vegetarian guests, or equally a lovely light family brunch or supper dish.
Diet
Gluten Free, Vegetarian
250

grams

brown rice flour

100

grams

buckwheat

50

grams

tapioca flour

1

rounded tsp xanthan gum

½

tsp

salt

½

tsp

pepper

250

grams

butter

50

g

Parmesan

finely grated

2

large eggs

whisked (organic or free-range if possible)

50

ml

water
Tart Filling
50g

butter

1

tbsp

fresh thyme leaves

finely chopped

8

large

eggs

(organic or free range if possible)

100

ml

double cream

200

g

Camembert

cut into small pieces

100

g

Ricotta

100

g

Parmesan

finely grated

6-8

fresh figs

sliced thinly plus extra for garnish

23

cmm

tart tin
Sieve all dry ingredients together in a bowl. Rub butter into flour until it looks like breadcrumbs. Mix in the Parmesan then add egg and water. Bind together and form into a ball – it should come away cleanly from bowl.

Cling and place in fridge to rest before lining tart tin (30 mins).
Tart Method
Heat a large pan, add the butter and melt. Add the onion and fresh thyme and gently cook (30-45 mins) over moderate to low heat until soft. They should be translucent, golden and sticky. 

Roll out pastry as thin as possible (to €1 coin thickness) between 2 sheets of cling film. Using your rolling pin, gently lift pastry (still wrapped in cling) and hold over tart tin. Peel off bottom cling layer and gently lower pastry into tin, then press lightly in and around edges of tin. Trim and neaten the edges, holding back a little extra pastry for shrinkage. Line pastry with parchment paper and fill with dried rice or beans. Place in oven at 150 C for 15 minutes until pale and golden. Remove from oven, discard paper and beans, place back in the oven for another 5 minutes, remove again and allow to cool before adding the filling.

Crack eggs in a medium-sized mixing bowl, add the cream and lightly mix with a hand blender. Cut the Camembert into small pieces, then add to the eggs along with the Ricotta, grated Parmesan and seasoning. Lightly blend mixture again with the hand blender until it resembles egg custard. Set aside. 

Spread the caramelized onions over the cooled tart base right up to the rim. Arrange 2/3rd of the figs in a neat circle on top of the onions until the tart surface is covered, then pour the egg custard into the tart case. Top with the remaining figs in whatever pattern your heart desires! 

Gently transfer to oven - middle shelf - and bake for 35-45 minutes or until cooked and lightly golden. Cool before slicing. 
Can be served at room temperature or slightly warm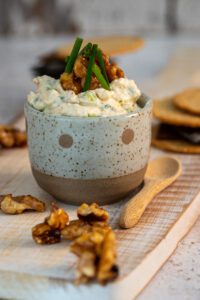 This dish is perfect as an appetizer, a delightful addition to a cheese platter, or a delectable standalone dip.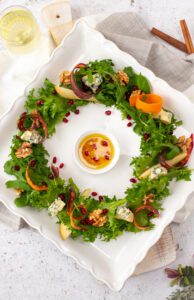 This salad makes for a beautiful centrepiece on your table. It can be served as a starter or a side dish to the main event.
This Mediterranean/North African-inspired omelette combines the rich, robust flavours of harissa, the creamy tang of feta cheese, and the briny essence of olives. Beyond its