This salad makes for a beautiful centrepiece on your table. It can be served as a starter or a side dish to the main event.
Course
Appetizer, Brunch, Dinner, Lunch, Mains, Salad, Salads, Side Dish
Diet
Dairy Free, Diabetic Friendly, Gluten Free, Grain Free, Ketogenic, Low Carb, Vegan, Vegetarian
Salad Dressing

3

tbsp

red wine vinegar

½

tbsp

runny honey

1

tsp

wholegrain mustard

I used Lakeshore

½

tsp

salt

¼

tsp

freshly ground black pepper

4

tbsp

extra virgin olive oil

Salad platter

200

g

winter salad leaves

washed and spin-dried (see tips box)

12

small heirloom/heritage carrots cut in ribbons

2-4

tbsp

pomegranate seeds

1/4 pomegranate

20

walnuts

toasted and roughly chopped

2

pears

sliced in quarters lengthways, then into 8 or 16 depending on size

200

g

blue cheese

crumbled
Salad Dressing Method

Place all above ingredients in a sterilised jar with a sealed lid. Give it a good shake to mix, taste and adjust seasoning if necessary.

Store up to 2 weeks in fridge.

Salad Platter Method

On a large serving platter or plate, arrange salad leaves in a round wreath shape - try to get some height into the leaves. Arrange carrot ribbons in and around leaves, then lightly scatter the pomegranate seeds and toasted walnuts. Slip the sliced pears in and around the edges of the leaves. Crumble over the blue cheese.

Place bowl of dressing in centre of wreath. Great served with crusty sour-dough.
Any combination of these leaves will work: Mustard, Purslane, rocket, endive, lambs' lettuce, cress, iceberg, etc
Some of my favourite blue cheeses: Crozier blue, Cashel blue, Young Buck (N. Ireland), Gorgonzola
How to make carrot ribbons: Run a vegetable peeler lengthwise down the carrots, shaving off long, thin ribbons. Place in a bowl of iced water and store in fridge until needed. Drain and lightly pad dry before arranging on salad.
How to toast nuts on the hob/stove top:
1. Heat a heavy bottomed pan over medium heat and add the nuts.
2. Spread nuts evenly over the pan surface and let them sit for 10 seconds or so, then stir again. Keep stirring nuts continuously for about 3-4 minutes or until they become fragrant. (Watch they don't burn on any hotspots).
3. Transfer to a plate for nuts to cool.
4. Store in a glass jar or sealed container in the fridge for up to a month.
Storing Leafy Greens to Keep them Fresh:
Time saving tip – Washing and storing leafy greens soon after you bring them home makes them more convenient to use and prevents food waste.
Top Tip – Use a salad spinner for drying washed lettuce & dark green leaves. Be gentle with delicate salad leaves as they bruise easily.
Store: Leafy greens stay fresh longer if they are washed, layered on dampened kitchen paper and then refrigerated in a container or sealed perforated plastic bag.
Dairy free option: Omit blue cheese
Vegan friendly option: Swap honey for maple syrup or chicory syrup
Nut intolerance: Just omit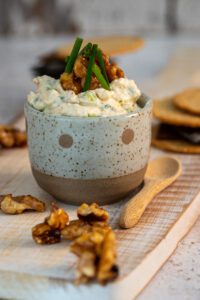 This dish is perfect as an appetizer, a delightful addition to a cheese platter, or a delectable standalone dip.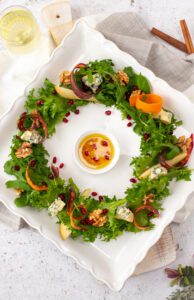 This salad makes for a beautiful centrepiece on your table. It can be served as a starter or a side dish to the main event.
This Mediterranean/North African-inspired omelette combines the rich, robust flavours of harissa, the creamy tang of feta cheese, and the briny essence of olives. Beyond its