As a very young child we never got chocolate Easter eggs - our treat was to paint hard-boiled eggs and then munch them down! I'm sure today's kiddies would be horrified to be faced with a hard-boiled egg instead of Cadbury's finest! These little Easter egg bombs are a fun take on energy or protein balls - I just shaped the mixture into an oval shape instead and coated them with dark chocolate – so easy! By the way, they are super tasty and not just for Easter!
Course
Desserts & Sweet Treats
Diet
Child Friendly, Dairy Free, Gluten Free, Grain Free, Sugar free, Vegan, Vegetarian
Servings
30
mini eggs approx
100

g

roasted hazelnuts

40

g

cashew nuts

40

g

desiccated coconut

1

tsp

cacao powder or dark cocoa powder

180

g

Medjool dates

pitted weight, chopped small

2

tsp

vanilla extract

1-2

tsp

water
To coat
300

g

dark chocolate

melted (70%+)

20

g

coconut oil
Combine hazelnuts, cashew nuts, desiccated coconut and cacao power in a food processor and pulse until they resemble breadcrumbs. Add Medjool dates and pulse for a few seconds until they are mixed through the nut mixture. Add vanilla extract and water to bind and pulse once more. Transfer to a bowl. The mixture should be sticky when pressed between fingers.

Shape mixture into a walnut size oval shape (like a quail egg). Place on a parchment lined tray and set aside to chill in fridge.

Gently push a little cocktail stick into the bottom of each 'egg', then dip it into the melted chocolate to coat the whole surface. Push the free end of the stick into a firm support. I used 2 large raw potatoes cut into 1 cm slices to hold the 'eggs-on-sticks' in place on a flat tray.

Leave the coated eggs to semi-set for 30 minutes, then transfer to the fridge to set.

Once chilled, remove the sticks and place these mini-Easter eggs in a sealed container. Store in the fridge for up to 3 weeks.
To melt chocolate: Break it into small pieces and place 2/3rd in a heatproof bowl. Sit over a pan (bain-marie) of gently simmering water to melt the chocolate, stirring occasionally. Remove from heat and add the remaining chocolate plus coconut oil, stirring until the chocolate is blended and smooth. The chocolate is now ready to coat the eggs.
Let any leftover chocolate cool down, cover and place in fridge up to 3 months. Or, if you have some homemade granola or good quality branded granola, mix a few tablespoons of it through your melted chocolate (Think rice krispy buns), then spoon into bun cases. Two treats for the price of one! 
If dates feel a little dry, soften by soaking in boiling water for 10 minutes. Drain and pat dry between sheets of kitchen paper, then follow above instructions.
Dates can be replaced with figs, if you prefer….
….and hazelnuts with whole almonds or Brazil nuts.
Dairy free and Vegan friendly: Ensure chocolate is DF/Vegan friendly
Gluten free: Ensure chocolate is GF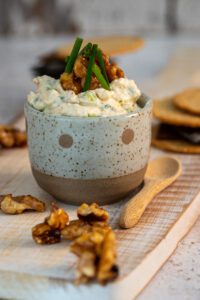 This dish is perfect as an appetizer, a delightful addition to a cheese platter, or a delectable standalone dip.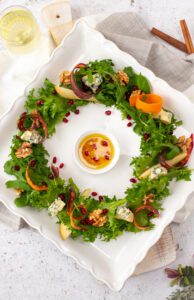 This salad makes for a beautiful centrepiece on your table. It can be served as a starter or a side dish to the main event.
This Mediterranean/North African-inspired omelette combines the rich, robust flavours of harissa, the creamy tang of feta cheese, and the briny essence of olives. Beyond its