Crispy Haddock Schnitzel with Cucumber Tartare
Crispy Haddock Schnitzel with Cucumber Tartare
Who doesn't love proper crunchy crumbed fish. This is definitely a recipe the whole family will enjoy. Make sure to source sustainably caught fish and even more important choose the freshest fish fillets available. 
The cucumber tartare is both cooling and tangy and really compliments the light crispy haddock fillets. Serve with a crispy green salad or mushy peas or your favourite greens vegetables or a selection of roasted vegetables.  Or splash out and enjoy with some homemade chunky chips or creamy mashed potatoes. 
Developed for Natural Life Magazine and Udo's Choice Oil
Diet
Child Friendly, Dairy Free, Diabetic Friendly, Gluten Free, Low Carb, Low GI, Sugar free
4

x 180g haddock fillets

skin and bones removed

60

g

white flour

Seasoning to taste

1

large egg

50

ml

milk

200

g

stale bread

sourdough or GF is best

½

tsp

garlic powder

½

tsp

onion powder

¼

tsp

turmeric

¼

tsp

salt

¼

tsp

freshly ground black pepper

60

g

butter

2

tbsp

olive oil
Cucumber Tartare
200

g

full fat natural yoghurt or Greek style natural soya yoghurt (Sojade)

1

tbsp

capers, roughly chopped

100 -150

g

cucumber (1/2), peeled, seeds removed and diced small  

10

g

fresh dill, finely chopped

40

g

(2) spring onion, finely chopped

1-2

tbsp

Udo's Choice oil

1

tbsp

lemon juice

seasoning
Pre-heat oven to 180c.

To make breadcrumbs: Tear the bread into pieces and drop into a food processor with a blade attachment. Add flavourings and seasoning. Pulse the bread pieces until crumbly - for fine breadcrumbs pulse more. Spread crumbs on a large baking tray and transfer to oven for 15-20 minutes; stir occasionally until crumbs are pale golden and lightly crunchy. Taste and add additional seasonings as you like. Set aside to cool.

To make tartare: In a small bowl mix all the ingredients. Keep in fridge until ready to use.

Place fish fillets on a flat tray and pat dry with kitchen paper. Place the flour on a plate and season with salt and pepper. Lightly whisk the egg and milk together in a shallow bowl. Put 1/3 of the toasted breadcrumbs on a separate plate.

Dip both sides of each fish piece in the flour, tapping away excess flour. Dip both sides in the egg mix then coat thoroughly with the breadcrumbs. Place fish on the lined tray. Repeat with remaining fish. Add more breadcrumbs if necessary. Chill for 30 minutes before cooking.

Melt half the butter with half the olive oil in a large frying pan. Once little bubbles appear add the crumbed fish fillets and cook for two to three minutes on each side until crispy, golden and cooked through. Drain on kitchen paper. Serve with Cucumber Tartare and seasonal vegetables, or green salad with a wedge of lemon.
Shortcut the crumb mixture by using regular breadcrumbs or GF or Panko breadcrumbs from your supermarket.
Cut the fish fillets into thick strips to make fish goujons.
Any white fish will suffice, or try organic salmon and mackerel fillets.
The crumb mixture also works really well with pork fillets, chicken fillets, chicken thighs or halloumi cheese.
You may have some leftover breadcrumbs. As long as the fish has not come in contact with the crumb mixture the crumbs mixture will keep in your fridge for 2 weeks or can be frozen for up to 6 months. I often double the above crumb mixture, divide into bags and freeze. Make sure to name and date the packet. 
Dairy free option: Replace dairy with soya milk. Replace butter with olive oil or coconut oil. Replace yoghurt with soya yoghurt.
Replace egg with 50 ml extra milk. 
Gluten free: Use GF breadcrumbs.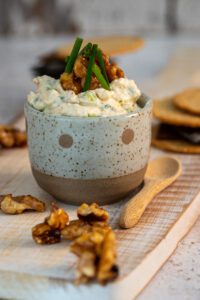 This dish is perfect as an appetizer, a delightful addition to a cheese platter, or a delectable standalone dip.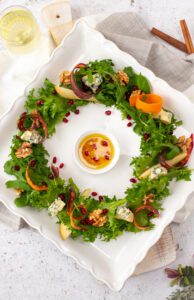 This salad makes for a beautiful centrepiece on your table. It can be served as a starter or a side dish to the main event.
This Mediterranean/North African-inspired omelette combines the rich, robust flavours of harissa, the creamy tang of feta cheese, and the briny essence of olives. Beyond its