Creamy Ricotta, Lemon Wholesome Rye Pancakes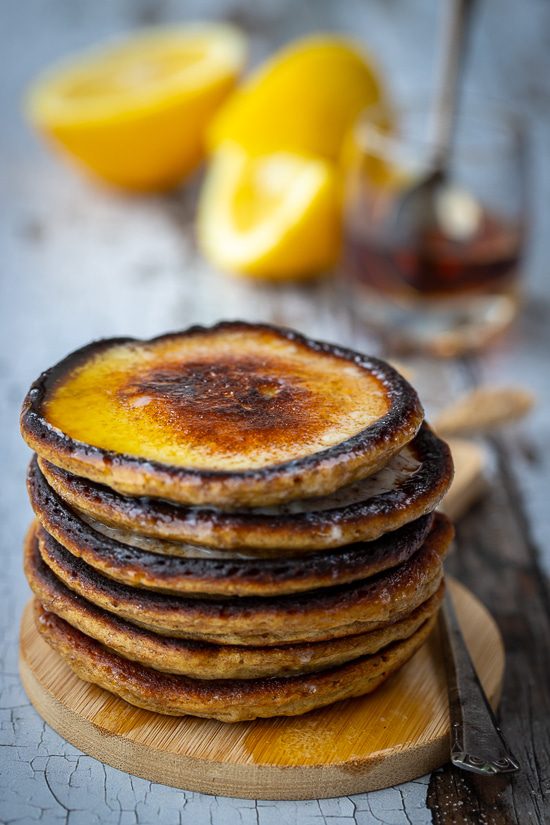 Creamy Ricotta, Lemon Wholesome Rye Pancakes
When it comes to pancakes I have simple tastes - plain and light is my only request. Despite being 70% wholemeal rye these little gems fit the bill nicely thanks to the creamy ricotta and extra egg yolk. I enjoy them coated in melted butter and a mini- squeeze of lemon. If you want a touch more sweetness, drizzle with a little maple syrup or honey.
Course
Breakfast, Brunch, Desserts & Sweet Treats
Servings
6
Makes 20 approx
120

g

whole rye flour

80

g

white rye flour

1

tsp

baking powder

½

tsp

baking soda

½

tsp

salt

400

ml

milk

full fat

125

g

Ricotta

full fat

2

eggs + 1 egg yolk

1

tbsp

lemon juice

1

tbsp

of butter

melted (20g) + extra for cooking
Sieve dry ingredients into a bowl. In a separate bowl whisk the milk, ricotta, eggs, lemon juice and melted butter to form a smooth thick batter. Leave to rest for 30-45 minutes (allowing the gluten in the flours to relax, giving you a lighter pancake).

Heat a large non-stick frying pan or crepe pan to medium-hot. Add a little knob of butter to the pan and swirl around to coat the whole surface. Pour a tablespoon of batter onto the pan and gently shape into a neat circle with the back of the spoon (the size of a cup rim).

Cook for 2–3 minutes until pin-holes start to emerge on the surface, then flip over and cook for a further 1–2 minutes. Remove from the pan and repeat till all the batter is used, adjusting the heat as necessary. Clean the pan with kitchen paper between batches and add a little more butter if the pancakes begin to stick.

Serve warm with your sweet or savoury choice of topping!
Topping Ideas
Melted butter and Lemon
Maple Syrup and Lemon
Creamy Ricotta and Blueberries
Smoked Salmon, Sour Cream and Capers
Maple Syrup, Crispy Bacon and Rocket
Creamy full fat Natural Yoghurt and Berries of choice
Fantastic served savoury or sweet.
Double batch and freeze.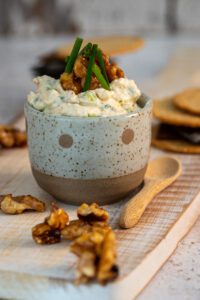 This dish is perfect as an appetizer, a delightful addition to a cheese platter, or a delectable standalone dip.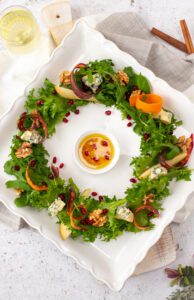 This salad makes for a beautiful centrepiece on your table. It can be served as a starter or a side dish to the main event.
This Mediterranean/North African-inspired omelette combines the rich, robust flavours of harissa, the creamy tang of feta cheese, and the briny essence of olives. Beyond its