Courgette, Fennel and Turmeric Soup
Courgette, Fennel and Turmeric Soup
There is an invasion of courgettes in our garden at the moment. One fantastic way of using them up is simply by making soup. Soup freezes really well so stock up now for the colder months ahead.
Diet
Dairy Free, Diabetic Friendly, Gluten Free, Low GI, Vegetarian
4

tbsp 

olive oil

40

g

garlic, finely chopped (4 cloves)

180

g

leek, finely diced (1 large)

18080

g

celery, finely diced (1 large stick)

200

g

fennel bulb, finely diced (2 med bulbs)

1-2

tbsp 

fennel seeds

1

tbsp 

turmeric

5

tbp 

chilli flakes

200

g

potatoes (2 large)

1

kg

courgette (4 large)

150

ml

vegetable stock 

200

ml

cream (optional)
Heat a large saucepan over medium heat, add 1 tbsp oil and the garlic. Gently fry for 30 sec, stirring frequently to prevent burning. 

Add the remaining oil, onion, leek, celery and fennel bulb. Continue to cook until soft and translucent, approximately 15 minutes. Add spices, stir gently for 1 minute. 

Stir in potatoes and courgette and cook for 5 minutes, then add stock.

Simmer gently for 25-30 minutes or until potatoes and courgette are tender. 

Transfer to a blender and puree on high speed until creamy and smooth. Return to pot and bring back to serving temperature. Add cream if using.

Taste and adjust seasonings accordingly.

To serve – ladle into mugs or bowls and enjoy!
You can make this up to 2 days in advance – cool, cover and leave in the fridge until needed, or freeze for up to 3 months.
To make this soup lower carb / ketogenic /Diabetic friendly omit potatoes and replace with courgettes.
Vegan friendly: Omit cream
Healing Benefits:
Fennel bulb and seeds can both provide super health benefits, including helping to lower blood pressure, aiding digestion, improving skin health and boosting bone health, among others. The fennel bulb is exceptionally high in fibre and rich in potassium and vit C. Fennel seeds are rich in flavonoid antioxidants and many other micronutrients.
Turmeric – the fresh root or powder – is a spice used widely in Asian cooking. It contains curcumin, renowned in Ayurvedic and Chinese medicine for its healing properties over thousands of years. These include supporting cardiovascular health, fighting inflammation and diabetes 2, lowering cholesterol, reducing depression, relieving indigestion, reducing Alzheimer's disease risk, among others.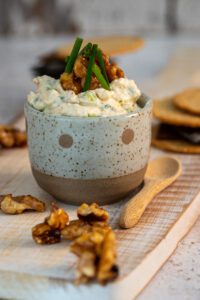 This dish is perfect as an appetizer, a delightful addition to a cheese platter, or a delectable standalone dip.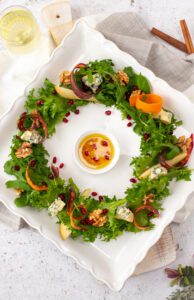 This salad makes for a beautiful centrepiece on your table. It can be served as a starter or a side dish to the main event.
This Mediterranean/North African-inspired omelette combines the rich, robust flavours of harissa, the creamy tang of feta cheese, and the briny essence of olives. Beyond its