Cauliflower, Camembert and Purslane Soup
Cauliflower, Camembert and Purslane Soup
This super posh cheesy cauliflower soup is so decadent and nourishing it is to be enjoyed all year round. The purslane adds a host of minerals and vitamins including omega 3 fatty acids, vit A, B & C and is rich in fibre, Iron, magnesium, manganese, potassium, calcium to name a few. The cauliflower has a rich supply of health-promoting phytonutrients, a high level of anti-inflammatory compounds as well as essential vitamins, carotenoids, fibre, soluble sugars, minerals and phenolic compounds. Definitely a soup to add to your recipe library.
Course
Appetizer, Brunch, Lunch, Soup
Diet
Diabetic Friendly, Gluten Free, Grain Free, Low Carb
20

ml

olive oil

50

g

garlic

minced (2 heaped tbsp)

50

g

butter

250

g

onion

finely diced (1 large)

50

g

celery

finely diced (1 small stick)

5

g

thyme

leaves only (2 tsp)

500

g

cauliflower

chopped small (1 small cauliflower)

250

g

potato

peeled and diced (1 large)

1

litre vegetable stock

2 kallo stock cubes

150

ml

double cream

200

g

camembert cheese

roughly diced

120

g

choose from - rocket,

purslane, water cress or land cress (choose a mix of 1 or 2 leaves)

Seasoning

To serve: Serve with crusty sourdough bread or wholemeal soda bread or wholesome GF bread
To garnish: Extra virgin olive oil

chopped roasted hazel nut, finely chopped thyme leaves
Heat a large saucepan, add butter and oil followed by the garlic, cook for 30 secs – 1 minute, stirring to prevent garlic burning. Add onion, celery and thyme; cook until softened, about 10 – 15 minutes. Add the cauliflower and potato, gently cook for 5 minutes then add the stock. Bring to the boil then reduce heat and simmer for about 20 - 30 minutes until the cauliflower is soft and the potato almost collapsing. Add cream and the camembert, bring back to a simmer allowing the camembert to melt into the soup.

Finely add purslane (or a mix) leaves and allow them to wilt into the soup. Continue to simmer for 3-5 minutes, then season with salt and pepper.

In batches, fill a blender halfway with mixture and puree until smooth (take care when blending hot liquids). Return pureed soup to pot and add more stock, water or cream for a thinner consistency, if desired. Bring back to a low simmer.

To serve: Ladle into large bowls or mugs, top with freshly chopped thyme leaves, some finely chopped roasted hazelnuts and a drizzle of extra virgin olive oil.

Sit back and enjoy this nourishing bowl of goodness.
You can make ahead up to 2 days in advance, cool, cover and leave in the fridge until needed, or freeze for up to 3 months.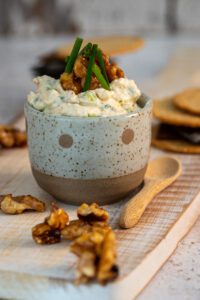 This dish is perfect as an appetizer, a delightful addition to a cheese platter, or a delectable standalone dip.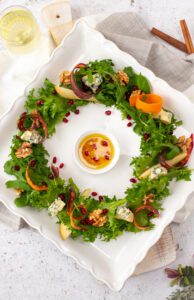 This salad makes for a beautiful centrepiece on your table. It can be served as a starter or a side dish to the main event.
This Mediterranean/North African-inspired omelette combines the rich, robust flavours of harissa, the creamy tang of feta cheese, and the briny essence of olives. Beyond its