Cauliflower and Parmesan Soup with Brown Butter and Crispy Sage
Cauliflower and Parmesan Soup with Brown Butter and Crispy Sage
Silky and smooth, this winter wonder soup will warm the cockles of your heart and nourish you mind, body and soul. Cauliflower and cheese are a match made in heaven but with the addition of brown butter and crispy sage it becomes pure indulgence.
Diet
Gluten Free, Grain Free, Vegetarian
100

g

butter

40

g

garlic

finely chopped (3-4 cloves)

300

g

onion

finely diced (1 lge onion)

150

g

leek

finely chopped (1 lge leek)

120

g

celery

finely chopped (2 sticks)

10

g

thyme leaves

finely chopped (2 tbsp)

250

g

potato

peeled and diced small (2 medium potatoes)

800

g

cauliflower

florets and stalk cut small (1 med cauliflower)

1.3

litre vegetable or chicken stock

2-3 Kallo stock cubes

350

ml

cream

120

g

Parmesan cheese

grated

Sea salt and crushed peppercorns to season

Small handful of sage leaves
Heat a large saucepan, add 60g butter and allow to melt. Add garlic, cook for 1 - 2 minutes, stirring to prevent the garlic from burning. Add in the onion, leek, celery and thyme; cook until softened, about 10 - 15 minutes until translucent. Add the potato and cauliflower and cook for 10 - 15 minutes, then add the stock. Bring to the boil, then reduce the heat and leave to simmer for about 20 - 30 minutes until the cauliflower is soft and the potato is almost collapsing. Finally add the cream and cheese, allowing the cheese to melt into the soup. Season with salt and pepper.

In batches, fill a blender halfway with the soup mixture and puree until smooth (use caution when blending hot liquids). Return pureed soup to pot and add more stock or water for a thinner consistency, if desired. Bring back to a low simmer.

Whilst the soup is cooking melt the remaining butter in a small pan over medium high heat. When it starts to foam, add the sage and fry, stirring, for 1 - 2 minutes until crisp. Using a slotted spoon, transfer the fried sage to a paper towel. Season with salt flakes.

To serve: Ladle into mugs or bowls, drizzle with brown butter and scatter with sage. Add extra parmesan if desired.
You can make ahead up to 2 days in advance. Allow to cool, cover and leave in the fridge until needed, or freeze for up to 3 months.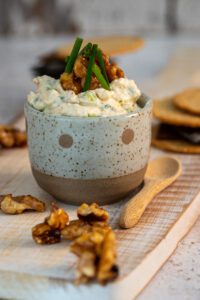 This dish is perfect as an appetizer, a delightful addition to a cheese platter, or a delectable standalone dip.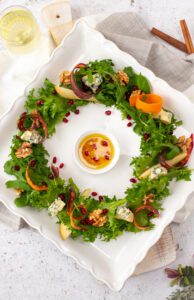 This salad makes for a beautiful centrepiece on your table. It can be served as a starter or a side dish to the main event.
This Mediterranean/North African-inspired omelette combines the rich, robust flavours of harissa, the creamy tang of feta cheese, and the briny essence of olives. Beyond its