Blue Cheese, Walnut & Herb Soda Bread
Blue Cheese, Walnut & Herb Soda Bread
A funky twist on our traditional Irish Soda bread. Happy Christmas :-)
Course
Baking, Bread, Breakfast, Broth, Brunch, Lunch, Soups
Diet
Child Friendly, Sugar free, Vegetarian
300

g

wholemeal spelt flour

180

g

plain white spelt flour

10

g

Himalayan salt

1 rounded tsp

10

g

bread soda

sieved into flour (1 rounded tsp)

80

g

walnuts

chopped

2

tbsp

fresh thyme

finely chopped

½

tbsp

fresh rosemary

finely chopped

200

g

blue cheese

roughly crumbled

225

ml

buttermilk

200

g

natural full fat yoghurt

1

egg

40

g

melted butter

melted
Preheat your oven to 200C. Sieve all dry ingredients into a large mixing bowl. Any extra bits in the sieve tip into the bowl. Add the walnuts, thyme, rosemary and 90% of the blue cheese, gently mix.

Mix the buttermilk, natural yoghurt, melted butter and egg together in a jug. Make a well in the centre of the dry ingredients, then pour most of the wet mixture in at once. Using a circular motion, with one hand, mix in the flour from the sides of the bowl, adding more milk if necessary. Likewise add a little extra flour if you find the dough is too wet and sticky. The dough should be softish – not to wet and not to dry.

Dust your counter lightly with flour and tip the dough out. Wash and dry your hands, gently shape the dough into a ball, then in to a long sausage, patting and shaping until you have reached approximately 40 cm in length. Transfer to a parchment lined tray or large round pan bringing the ends together to form a ring or wreath.

Using a small paring knife, cut small incisions into the dough. Push the rest of the blue cheese into the incisions.

Transfer to oven and bake for 15 minutes at 200c, Turn down the oven to 170c for 20 minutes or until cooked. If you are in doubt, tap the bottom of the bread: if it is cooked it will sound hollow.

Transfer to a wire rack and leave to cool. Serve with homemade soup or part of a cheese board.
Instead of creating the wreath just shape the bread into a ball, whilst patting it down slightly. Transfer to a 2lb/900g lined loaf tin and follow above cooking instructions. You will need to allow approximately 15-20 mins extra cooking time at the end.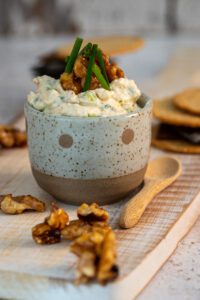 This dish is perfect as an appetizer, a delightful addition to a cheese platter, or a delectable standalone dip.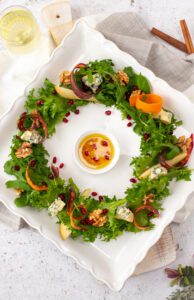 This salad makes for a beautiful centrepiece on your table. It can be served as a starter or a side dish to the main event.
This Mediterranean/North African-inspired omelette combines the rich, robust flavours of harissa, the creamy tang of feta cheese, and the briny essence of olives. Beyond its