Artisan Cheese Board with Winter Fruits
Artisan Cheese Board with Winter Fruits
The perfect cheese board for any occasion
Course
Desserts & Sweet Treats, Main Course
Diet
Diabetic Friendly, Gluten Free, Ketogenic, Low Carb, Low GI, Sugar free, Vegetarian
3 to 4

cheeses from your favourite producers

Seasonal Fruits

I used apple, pear, pomegranate and figs

Crackers and thinly sliced sourdough.
To assemble:

Cut the cheese on a separate board in advance (but not so far ahead that it dries out). Arrange it on your serving platter, placing larger pieces more central and smaller pieces ad hoc around the plater. Fill in the rest of the spaces with fruits, crackers, chutneys, and nuts and dips

Label each cheese so guests can identify what they taste. Use a cocktail stick or plant labels (used in flower pots) attach gift tags, post-it's or label with the name of each cheese. This also means you don't have to remember them by heart or keep having to recite the names of the cheeses all evening.
Whats Required:
The Board: Cheese boards are typically assembled on large flat platters. These can be slate, a wooden board, a marble slab, a fancy plate, tray or chopping board.
The Cheeses: Choose 3 to 4 cheeses from your favourite cheese producers. Go for a variety of textures and flavours: soft, semi soft, blue, a hard cheese and a more aged cheese. Try cheeses made from different milks: goat's, sheep's, and cow's. It is also good to keep in mind shapes: wheels (round), squares, logs, triangles or slices. This makes for a more interesting cheese board. Serve at least one familiar cheese. It is also good to ask your cheesemonger's advice to help you navigate the wonderous world of cheese.
The Temperature: Allow cheese to come to room temperature before serving.
How Much Cheese Per Person? This will depend if you are serving it as part of a meal or if it is the main event. A general rule of thumb is 150g cheese if part of a meal (think starter portions) and 200 – 250g if no other food is been served. Always have more on hand to replenish the board as needed.
The Fruit: Choose seasonal and organic if possible. Think colour!
The Crackers: Vary these and include GF versions, also try to vary shapes. For example, oat cakes, rye biscuits, and bread.
Extras: Add dried fruits, mixed nuts, homemade or shop bought chutneys, onion marmalade, apple jelly, honey, olives, hummus, mustard, pesto, raw vegetables, cornichons, gherkins, capers, pickled peppers, olives or cured meats.
How to store cheese properly: Ask your cheesemonger for extra wax paper when purchasing your cheeses. You can then use this to rewrap whatever cheese is leftover. Cheese is best stored in a sealed glass container (Pyrex). Keep it in the vegetable crisper of the refrigerator, where the temperature is cold and stable (0 – 5C).
Corleggy Cheeses, Co Cavan. Fantastic cheeses. Available at various farmers markets.
The Blues Creamery, Co Tipperary. Fantastic cheeses. Available at various farmers markets.
Sheridan's Cheese Mongers Co Meath. Fantastic cheeses. Their products are wildly located across Ireland in various delis and farmers markets.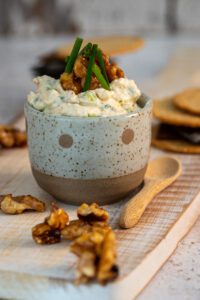 This dish is perfect as an appetizer, a delightful addition to a cheese platter, or a delectable standalone dip.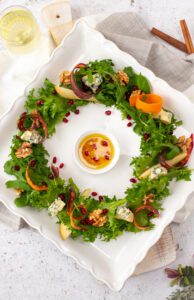 This salad makes for a beautiful centrepiece on your table. It can be served as a starter or a side dish to the main event.
This Mediterranean/North African-inspired omelette combines the rich, robust flavours of harissa, the creamy tang of feta cheese, and the briny essence of olives. Beyond its