Food bloggers are shaking up the industry with can-do attitudes and a resourceful approach to cooking.
CALL them what you want: the green goddesses, the new foodies on the blog, the healthy eating revolutionaries.
Whatever you call them, they're becoming a social media phenomenon that is impossible to ignore.
Ten years ago, nobody really knew what a food blogger was. Now there are upwards of 500 Irish people blogging about all aspects of food, from the blessings of the humble spud to misadventures with an artichoke.
If the blogs show anything, it is that there is a huge appetite for health. More and more people are logging on in the hope of clicking their way to radiant wellbeing.
And women are leading the way. We talk to one of the bloggers who is joining the legions of women who, from their kitchen tables, are creating a healthy food revolution.
MARY UÍ BHROING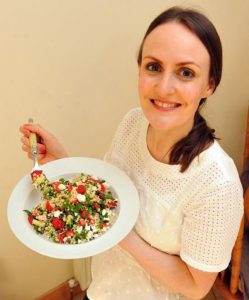 USP: Vegetarian-inspired blog with tips from a qualified nutritionist
Food philosophy: Getting back to basics by preparing and enjoying wholefoods that give the body what is needed to work optimally.
Favourite bloggers: Deliciously Ella Oh She Glows The Little Green Spoon Peachy Palate
After finishing a course at the Irish Institute of Nutrition and Health in Bray, Co Wicklow, Mary Uí Bhroin, 30, started to blog earlier this year to share her new-found knowledge.
What we eat is central to the way we feel and look, and everyone can make changes to their diet to boost their wellbeing, she says.
For her, plants are about the most nutritious food there is, and her blog Nufo is about helping people to add more of them to their daily diets.
Mary is not so much anti-meat as pro-veg, and she develops all of her recipes herself. "It's a labour of love," she says.
As a nutritionist and health coach — she also works with people with intellectual difficulties — Mary says that she would love to support people by helping them to source and cook food for optimal health.
She lives in Cork City and says there is inspiration everywhere. "There are so many farmers' markets and good locally sourced food. I always advise people to look for local produce that is in season."
She encourages people to know what they are eating and to go back to basics.
"Food is there to be enjoyed and I want to show you it is possible to prepare tasty yet nutritious food that leaves you satisfied and looking great."
Hazelnut Cacao Spread
This is one of my favourite treats, a healthy Nutella if you will! this is gorgeous stirred into porridge, lathered onto pancakes or piled high on rye bread. This is a winner for kids as it satisfies a sweet tooth without the sugar.
Makes 1 Medium Jar
200g

hazelnuts

1 tbsp

cacao

powder
1 tbsp

coconut oil

5 dates (pitted)
Make and do
Roast

the

hazelnuts

in the oven for 8-10 minutes at 180C – remove and set to the side to cool fully.
Pop the nuts into a clean tea towel and rub them around to remove the

skin

– put them into a food processor and blitz until they have broken down into a creamy

hazelnut

butter

(takes about 5-7 minutes)
Add the cacao powder,

coconut oil

and dates and blitz until smooth – store in a clean jar for up to two weeks (an old jam jar will work just fine) – spoon, spread, enjoy.
(Credit: Mary UÍ Bhroing of www.nufo.ie and www.irishexaminar.ie)