Sprout & Co. all started with the juices. When did you first become interested in juicing?
I was working as a chef in fine dining. I had always suffered from eczema and this started to get much worse. I thought it was due to the atmosphere of the kitchens and the intense pressure I was under but then I found it was more to do with my diet and not looking after myself properly.
I started including juices in my diet and I was amazed what a difference it made to both my skin and my overall health and energy. I realised that you could heal yourself by eating the right things.
Juice is a good introduction to healthy living because it delivers the nutritional benefits of healthy ingredients like kale to people who might never normally sit down and eat a plate of kale.
You supply juice to all the Avoca stores in Ireland, which is a very prestigious gig. How did you manage to land that?
I worked in Avoca for 2½ years, initially as a chef and then as project manager, introducing new lines. I was offered the opportunity to launch my juice in their stores. Juicing was just becoming popular around that time so the business grew steadily. It was an amazing opportunity to grow the business and learn on the way. I got invaluable job experience, learning about things like seasonality, production and ingredients.
Your juices are all "cold pressed", which preserves the ingredients. Explain what difference that makes.
Cold pressing doesn't oxidise or degrade the fruit or veg, preserving 100% of the nutrients and live enzymes for up to 3 days. We use a centrifugal juicing process, rather than a rotating blade, to make sure we get the maximum nutritional value from the food.
Many of the large commercial manufacturers make juices that are very high in sugar and sacrifice nutritional value for an extended shelf life so these juices are often not as healthy as they claim.
I just made a TV programme with RTE for a series where they explore terms and processes used by the food industry, like "cold pressed". We really put this to the test, comparing things like colour, taste and nutritional content and proved that cold pressing makes a huge difference.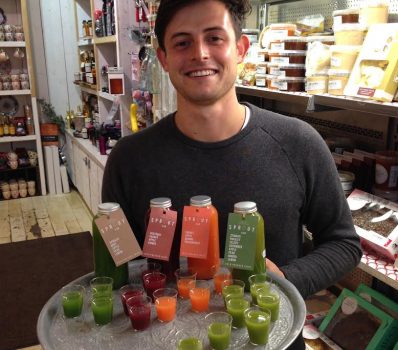 You opened your own restaurant, Sprout &. Co., on Dawson Street last November, serving fresh, local and seasonal salads, foods and juices.
How did that come about?
I had the idea for quite a long time and was always thinking along those lines. I didn't have the money to do this at the start and the juicing was a more manageable first step.
It's a concept I've always believed would work but the timing is particularly good right now. Irish people are becoming much more conscious about healthy eating and are starting to ask questions about where their food is coming from, how it's being produced and what's been added to it to give it a longer shelf life. They're doing things like cutting out gluten and going dairy-free. They're going back to their local butchers.
What's different about your approach?
It doesn't get any purer than fresh, raw food and locally sourced meat. In Sprout & Co. nothing is hidden. People can see their dishes being made in front of them so they know exactly what's in them.
How much of the business is take-away and how much is eat in?
Most of it is take-away, about 85-90%. We have about 30 seats so there is also room for people to eat in if they want.
Where is everything made?
We still do the juice production in Rathcoole but almost everything for the restaurant is made in the kitchen there. We want everything to be fresh and cooked on site that day, as much as possible. We've just secured a factory in Bray, where we will be able to produce the juices, and that will also give us space to do much more in terms of new product innovation.
"Healthy, seasonal and local when possible – All our salads are built around a great Irish seasonal ingredient" – is displayed on the wall in the restaurant.  How important is it to use local, seasonal ingredients?
We are all about seasonality and we change our menu every 3 months, depending on what's available in each Irish season. Buying seasonal just makes sense to us – it's cheaper, it's local and, most of all, it tastes better. We just don't see why you would want to buy tomatoes from Peru when you can get them right here.
What ingredients are in season right now?
Right now, with the cold weather, we're using lots of root vegetables like beetroot, carrots, kale and bok choy. We're also using lots of leafy Irish greens that can be grown underground and are less prone to frost.
We'll be changing our menu in March but we'll really start to see a bigger variety once the weather warms up in April and May and things like strawberries and tomatoes start coming into season.
Your selection of fresh ingredients at the counter looks fantastic and very inviting. You've done the seemingly impossible and managed to make salad sexy! What's the trick?
I think it's important that people feel full after their meal and we make sure of that. Often when people think of salad they think that it won't be substantial enough. I wanted people to be filled by the food so they wouldn't leave hungry.
Our salads are very hearty. We have extras like falafel, which is a chickpea mix with spices, garlic and coriander, and that's nice and filling and popular with our customers.
It must be pretty hectic with a juice business and now a restaurant to manage. What does an average day look like in the Sprout & Co. empire?
When I started off in the juice business the working hours were crazy – I started work at 4am. It's a bit better now and things are more settled but it's still a pretty early start so luckily I'm an early riser anyway. There's a lot going on during the day so I try to be creative and come up with new business ideas after hours.
It's still early days for the restaurant but the longer we're open, the more we'll learn about what works and what doesn't. We're always thinking 3 months in advance to the next season.
You and your brother, Theo, are both involved in the business. Who does what?
Theo runs the juice business and right now he's also very involved in the restaurant kitchen so he's juggling the two. I'm in charge of new business and I oversee the whole lot too.
How many staff do you have now?
We now employ 25 people in total. We've put a very strong team together in the restaurant. It's hard to get people to join you when you're starting out because they feel they're taking more of a risk. Now that we've built up a reputation, it's easier to attract people who've been working in the industry for over 10 years and we've managed to persuade some really great people to join us.
You lead a pretty busy life. What do you do to unwind?
I used to play hockey internationally for Irish underage teams but as a chef I didn't have time to focus on it. I still exercise, but not to the level I would like. I go to the gym 3 or 4 times a week and do rowing and weights.
I read a lot in my spare time. I work 6 days a week but I make sure to take Sundays off so I often socialise with friends and go out for dinner and some good wine on Saturday nights.
You're very young to have so much responsibility. You're 26 and you started the juice business at 23. Do you think being young is an advantage or a disadvantage?
Being young in business has pros and cons. Avoca were amazing to take a chance on us at such a young age. We got a huge amount of help and it was a great place to learn. When you're young, more seems possible and you're not worn down by the industry and have less responsibility, so that helps.
The food industry is a very unforgiving environment and a huge amount of businesses go bust very quickly so you do need strong advice on how to survive.
It's a lot of pressure to take on at such a young age and it's important to enjoy your youth before taking on something that's going to take up so much of your time.
I love seeing young people getting into business and it's great to see more people taking a chance on them these days but it takes a certain type of person to make a success of it.
You said you were lucky to have some great advice. Who helped or supported you along the way?
Ciaran Butler from Smithfield Market has been a great help and inspiration to us. His family have been based in Smithfield Market for generations. We're chefs and don't know all the finer details of farming. He knows all the best growers and he knows who puts the extra effort in, who we can rely on for the yields we want, and who can deliver the consistency we need, so he's been invaluable to us.
We go to him with recipes and discuss the most suitable ingredients with him at an early stage in the process, which really helps us to create the best dishes. Ciaran's been interested and enthusiastic from the start, which was a great support to us. Linking with someone like that is absolutely vital.
What advice would you give to people starting a food business?
Find someone who can mentor you and surround yourself with a really strong team. When you're starting out in business you may think you know it all but there is so much that can go wrong. Having people with decades of experience that you can go to for advice is absolutely vital. It's very important to have people to fall back on and you need people who have seen it all before. Always get strong opinions before trying something new. Take the advice you get.
There is high demand for food properties at the moment so there are plenty of food businesses interested in opening up. If you're going to be a first mover in a business, make sure you've done your research; analyse the market and make sure there's a demand for it. Attention to detail is key. Fine details are what make a business work and then more fine details repeated over and over again.
What is your food and nutrition philosophy?
I'm not a nutritionist and there's no magic formula but use fresh ingredients that haven't been tampered with and stick to pure wholesome foods.
On your website you've got a "Look who's drinking Sprout…" section, with celebrities like Elle MacPherson, Daisy Lowe and Christy Turlington. It must be pretty cool getting endorsed by people like that.
We sent them juice and they drank it. Better still, they also posted photos of themselves with the juice on social media sites. That's the kind of advertising we couldn't afford to pay for so it's fantastic.
So, what's next for Sprout & Co.?
We'd like to expand the business with more premises. We believe in it and we believe that there is a bigger market for it so we want to grow it.
---
For more information, check out the website: http://sproutfoodco.com