Do you crave a little sweet something after a meal, or in the evening? It's a fact that a lot of us have a sweet tooth. This can be an area where people fall down when it comes to diet, it can be so difficult to think of a healthy sweet treat alternatives. We've all been there, you make it through a great day of eating healthy and then come home wrecked and in that moment of weakness reach for some refined, sugary rubbish. So what to do? Cut out all sweetness? Never! Healthy eating is all about moderation and life, lets face it, wouldn't be so enjoyable without a little bit of sweetness every now and again. Here are some handy healthy little treats, that you can easily throw together at home in just a few minutes. These recipes state 90% dark choc, but if you find that too bitter try a slightly lower percentage to begin with. If you think you don't like dark chocolate at all, trying any of the below recipes would be a good way to start changing your mind! Enjoy!
Choco-berries
Melt 2-3 squares 90% dark choc. Mix in berries or fruit of your choice. Eat warm or refridgerate for a little while. Either way, its equally delish!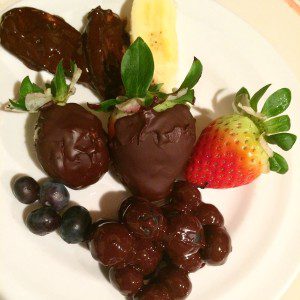 Florentines
Melt 2-3 squares 90% dark choc. Mix in a combination of seeds, nuts and goji berries. Refridgerate. Break into bitesize pieces.
Bounty Balls
Mix shredded coconut with a little xylitol and a drop of coconut milk/cream. With wet hands form into balls. Cover with melted dark choc and refridgerate.
Chocolate Mousse
Whisk 1 egg white, melt 2-3 squares 90% dark choc, mix the two together and refridgerate. Add a few cocoa nibs or roasted hazelnuts for extra crunch. Split into two glasses.
Chocolate Bananas
Slice a line down the side of a banana lengthways stick in little pieces of dark chocolate and a few nuts or chia seeds, whatever you like. Then throw in the oven for 15 mins and the result is heavenly!
Gwenyth's Chocolate 'Candy Bars'
This is a recipe from Gwenyth Paltrow's 'Its All Good' and they are!! 1&1/2 cups cashews, 1&1/2 cups medjool dates, 1/2 cup almond butter, 1/2 cup maple syrup, 1/2 cup coconut flour, 1/2 cup shredded coconut, 1/2 tsp almond ext. 1&1/2 cups 90% dark choc, 1&1/2 tbsp. coconut oil. Take all ingredients except the chocolate and coconut oil, mix well and press into a swissroll tin. Refridgerate. Melt chocoloate and coconut oil together. Pour over and refridgerate again. Chop into small bars.
Top Tip for a sweet tooth:
If you don't have junk in the house you can't eat it! Instead fill your cupboards with all the makings of healthy treats and you'll also be equipped to throw a little something together whenever the urge takes you. Dark Choc, nut butters, nuts, seeds, berries, coconut oil….
Enjoy every healthy chocolatey bite!!
(Credit: Kara Reilly  of www.fooducation.ie)