Kids love doing things they think are 'grown up'. Getting kids involved in the kitchen is a perfect way to teach them about nutrition. Everything from planning the menu, doing the shopping, to preparing and cooking with you, they love it! It's a win-win, its a great way to have some fun together, and at the same time its going to make them more responsible and independent. It's a great way to learn about different types of foods and to show them some basic cooking skills which are going to stay with them for life. Hopefully in the future, it might just be the difference between them thinking about and preparing a snack themselves rather than automatically going for a rubbishy quick fix instead! Here's some ideas of easy ways to get them started:
Smoothies:
The Nutribullet and other smoothie blenders and juicers are very safe to use with a little bit of supervision. This is a great easy way to get kids involved in the kitchen, and it is a fantastic way of getting lots of fruit and veg into them. They can decide what they want to throw in, and may even be persuaded to throw something new in each time. Picking out their ingredients of choice, pressing the button, pouring it out, they are really going to feel like they are making it all on their own. You could try sneaking in a little pak choi or romaine lettuce when they are not looking, it goes undetected every time!
Eggs:
Many kids love eggs. Scrambled egg is a great first meal to teach them how to make. It can be easily be done in the microwave, making it even easier. Mixing an egg in a bowl with a knob of butter and drop fo milk is something any child can do. They get so excited to see the transformation before their eyes! Tipped out onto a wholegrain wrap and wrapped up, they have successfully made their own meal! They will be delighted. Omelette is another handy one. Needs a little more supervision, and a small frying pan comes in very handy. Again they choose their own fillings, throw it into the bowl with a couple of eggs and toss the whole lot in the pan. Allowing it to cook on one side and then simply moving it under the grill is a handy way to avoid any flipping over.
Pizza:
Homemade pizzas are a great fun activity for all the family. A big batch of dough can be made very easily and split up into individual portions and even frozen for convenience. Then laying out a bowl of tomato paste, grated mozarella and shaker of oregano with a whole load of different colourful toppings, kids can top their own pizza. Stretching the bases out in iteself is great fun, trying to get it into the right shape. And with the toppings then they can load them on, even making faces, or designs, whatever they decide they will be so excited to see their own one coming out of the oven.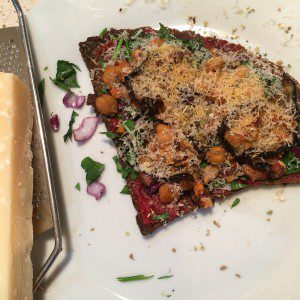 Baking:
All kids love helping out with baking, licking the spoon or the bowl, who can resist it!! All in recipes like buns, flapjacks or cookies are great ones to do with kids. Getting organised beforehand is a good tip. Have everything you need out on the counter, possibly even measured if needs be, though kids do enjoy this part, your tray lined, all utensils where you need them. Having everything out will save you having to run here and there while little hands are digging into the mixture! Kids adore helping out and then watching what happens when the mixture goes into the oven. Refridgerator desserts, like cheesecake or moussecake work very well with kids as you dont have to worry about the oven then. The base usually involves a lot of crushing and banging and pressing which they will love doing, of course!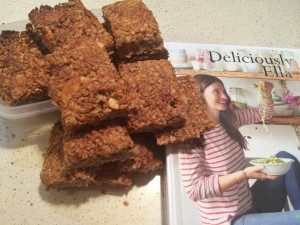 Chocolate treats:
Dark chocolate can very easily be melted in the microwave. A simple idea is to lay out a big assortment of fruit and berries with a bowl of melted dark chocolate and forks. Kids love this kind of 'fondue' and it is a great way to introduce them to a darker chocolate than they are used to. Other simple ideas are melting chocolate and then throwing in some of their favourite berries, fruit or dried fruit or nuts and seeds. Then they can flatten it out on a tray and refridgerate. When its ready they will have fun breaking it into pieces and tucking in!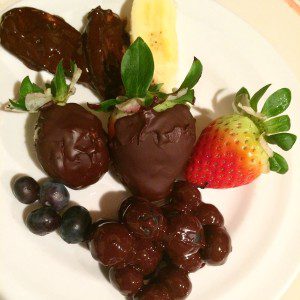 Whisking up some egg whites is another simple activity with a great visual result to excite them. They'll be amazed at the yellow liquid turning into a huge bowl of stiff egg whites, especially if you turn it upside down over their heads and show them how it stays put (hopefully!!) Mixing it again with melted dark chocolate and a little honey if it needs it, will make a really simple delicious chocolate mousse.
Breakfasts:
Breakfast time is a very easy place to get kids involved. And after time it may just help speed things up in the morning, if they have learned to do things for themselves! Porridge can easily be done in the microwave. A handy tip is to have it prepared and soaking from the night before, then it will take less time to cook in the morning. Any child is going to capable of putting muesli, granola etc into a bowl and topping with milk, you could have some toppings laid out like honey, seeds, nuts, fruit for them to choose from, even a few different types of milk for them to try out. Chia pudding is another handy one that can be done the night before and they will enjoy seeing the change in the morning when it has turned so thick. And smoothie bowls are a great colourful way to enjoy breakfast in a bowl!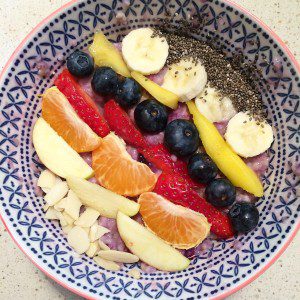 Dinners:
Pasta is almost every childs favourite! It is a very handy dinner to get them involved in. Make a big bowl of plain pasta and then lay out different sauces, like green pesto and a tomato sauce, then some things that can be added like finely chopped veg, peppers work well or little bits of ham or bacon or some little prawns and some grated parmesan. They can make up their own concoction then and will be trying new ideas while they are at it. Preparing fish or chicken as goujons using flour, egg and breadcrumbs is a fun (messy!) activity with smallies. Definitely have eveything ready beforehand and be near a sink! Eveyone can be given a job. They will love dipping in and passing on to the next person. And the best thing of all they will be excited to eat them up when they are done!
Soups:
Like smoothies, soups are a very easy way to get kids cooking. A bit more supervision will be required of course. Once onion is sweated off, they will have fun choosing all the veg and throwing it into the pot. Blending it up and seeing it change from veg to soup is great fun!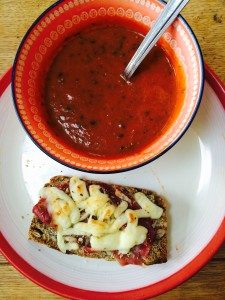 Planning Menus & Shopping:
Consulting kids when deciding whats for tea (within reason of course!) is a good way to get them involved and make them feel like their opinion matters. Usually works well with older kids. It can be fun to go shopping together for the ingredients. Especially fun is shopping at a country market, where they'll learn a lot about good food with all the local organic produce and food producers.
Happy cooking!!
(Credit: Kara Reilly www.fooducation.ie)